The easiest way to buy from Alpaqua is to purchase online using our secure shopping cart (we accept AMEX, Visa, or MasterCard). We also accept purchase orders sent by email (sales@alpaqua.com) or to fax 1 (978) 865 9499. If you prefer, you can mail your PO/order form to Alpaqua Engineering LLC, 100 Cummings Ctr. #424A, Beverly, MA 01915, USA.
Important: Please indicate your shipping preference on your order (FedEx Ground, FedEx Express Saver (3 business days), 2Day, Overnight etc.).
All orders ship from Beverly, Massachusetts.
We try to ship all orders on the same day. The cutoff for Ground is 3:00 pm Eastern; for Express including international shipments, it is 5:00 pm.
Special offer for all customers located in the lower 48 states:
Alpaqua offers Free FedEx Ground Shipping on all purchases made online and paid by credit card.
Pricing and Terms
If you prefer not to buy online, all prices are Net 30 Days to organizations with established credit and do not include shipping (see below), customs charges, or applicable sales tax (see notes on sales tax below).
Shipping will be pre-paid and add, F.O.B. Destination.
All sales are subject to our Terms and Conditions.
Sales Tax
We currently collect sales tax in the following states:
California (variable; 7.25% – 10.75%)
Massachusetts (6.25%)
North Carolina (variable; 6.75% – 7.5%)
All orders shipped into those states will have sales tax applied to the price of the product (excluding shipping) during checkout. For California and North Carolina, we initially apply the highest rate; this is corrected later. Here is how it works: When you submit your order, your credit card is not charged right away, but the purchase amount is authorized for later capture. This gives us time (in case of CA and NC) to look up the actual tax rate that applies to the shipping address and adjust the tax on your order accordingly before we capture the amount.
Likewise, if you indicate that your purchase is tax exempt, the temporary hold on your card allows us to verify that we have your tax exempt certificate on file, or request one from you before we ship.
Please notify us of your tax exempt status before you order; you can also use the Comments field on the order form. You can further accelerate the process by submitting your tax exempt certificate to sales@alpaqua.com or fax it to (978) 865 9499 before you buy. In Massachusetts, this can be Form ST-4 (Resale Certificate), ST-5 (Sales Tax Exempt Purchaser Certificate), or ST-12 (Exempt Use Certificate), as the case may be.
Domestic Shipping
Orders are shipped via FedEx and actual shipping charges for the selected service (Express Saver, 2Day etc.) added to the order total during checkout. Ground shipping is free on all credit card orders to the lower 48 states. If you need your order faster, please select the desired shipping method during checkout. The travel time for Ground shipments is shown below. The star shows where we are, in Beverly, Mass.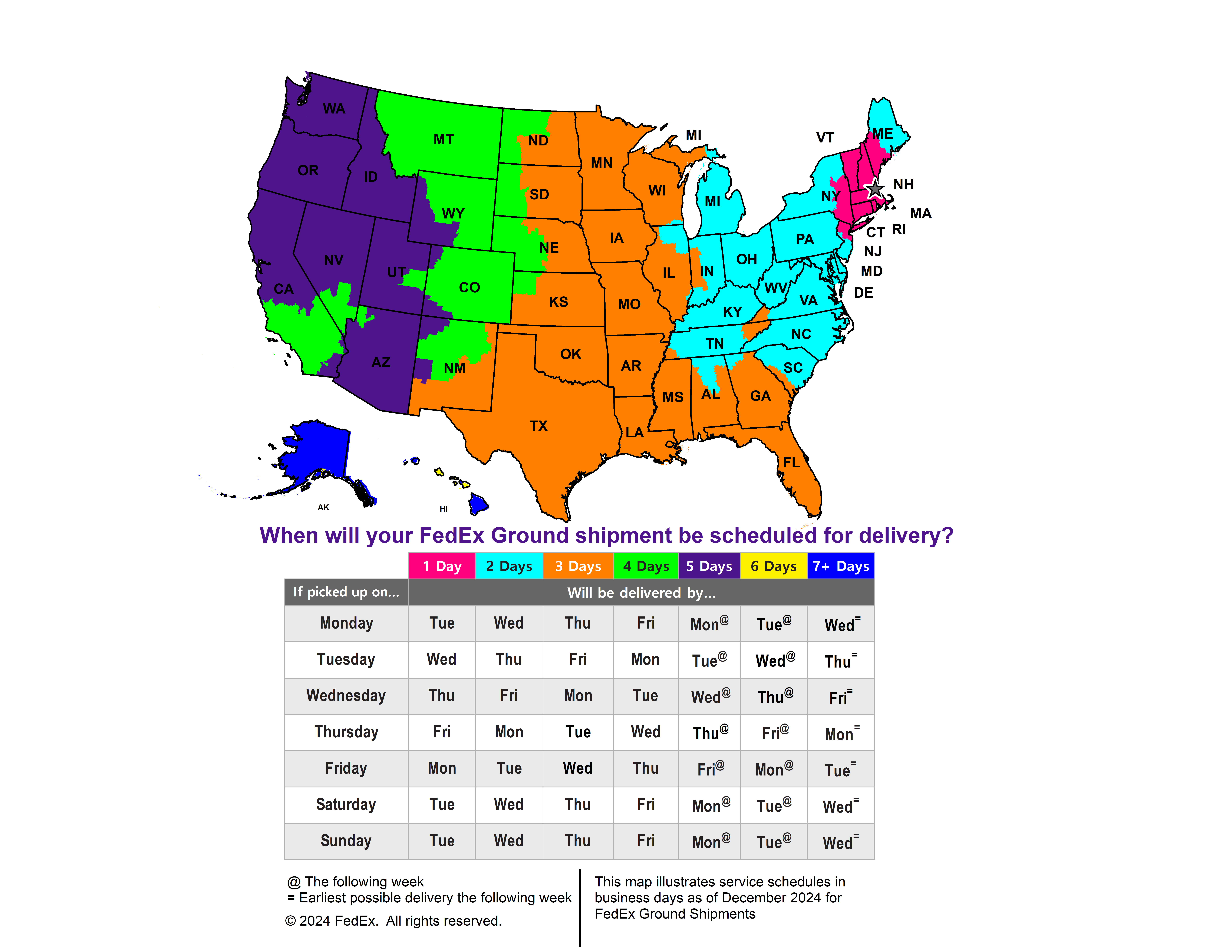 International Shipping
We are happy to ship direct to our foreign customers and strongly encourage you to order online. If you do not wish to purchase online, we still ask you to kindly pay in advance. If a proforma invoice is required for pre-payment, fax or email your order form and we will be happy to send one. You can send a check in US dollars, drawn on a US bank, or you can wire the money directly to our bank. Our bank details will be shown on the invoice.
Important: Our Incoterms are DAP (or EXW if you ask us to ship on your FedEx account). This means that the buyer is responsible for import fees, such as duties and taxes. Those fees will be collected by FedEx before or at the time of delivery.
To avoid any delayed shipments, be sure to mention the full name and address of the recipient, including phone number and email, when you order. If anything is unclear about the delivery or customs clearance, FedEx will try to contact the recipient using this information.
Shipping Damage
All domestic and international shipments are insured for the price of the products. If you receive damaged products from us you must report it to the shipping company and to Alpaqua within 48 hours to receive repayment.
For FedEx damage claims call 1 (800) 463-3339, or the FedEx service number in your country.
Alpaqua call: 1 (800) 690 1620 (domestic and international).
Please save the damaged shipping boxes for the shipping company's insurance officer to inspect and when appropriate document damage with photographs.
Warranty
Equipment is guaranteed against defects in workmanship for a period of one year.
Returns
Please keep original boxes and packing material in case a return is necessary.
We cannot accept returns on custom items, or on any products that have been in contact with lab reagents.
There is a 20% restocking charge for returns due to customer ordering error.
We try to make sure you have ordered the correct product from the beginning. So if you realize within a reasonable period of time that you have ordered the wrong item, we will take it back. But in order to process the return and prepare the product for re-sale we have to charge a fee.
Returns are not accepted without a written authorization. Please contact us for return instructions by phone (800-690-1620) or email (sales@alpaqua.com).
We would like to have an open return policy, but this is not practical given the nature of the work done by our customers. If the product has been used with hazardous materials (radioactive, biological, chemical) we cannot take it back. If the product has been used with a material that renders it useless or unsellable (such as a dye or material that leaves a visible residue), we cannot take it back. Unfortunately, in most cases this is what will happen to products once they have been used in a research setting.
As long as the product is used as it was designed to be used, then we will make every attempt to make sure that it is functioning for that purpose.
Our products are under warranty for defects in material and workmanship for one year after purchase.
Conditions
All products are intended to be used FOR RESEARCH PURPOSES ONLY. They are not to be used for diagnostic purposes.
Product Changes
We reserve the right to change specifications of our products at any time without notice.